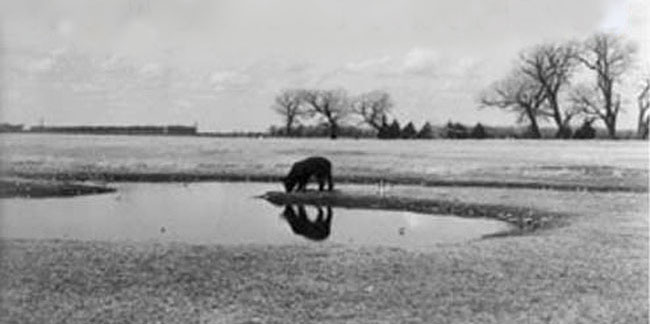 This was taken in our pasture when I went home on Easter break in 1969. The handsome fellow drinking from the buffalo wallow (that pasture never was plowed and was filled with what I was told were buffalo wallows from a century and more ago) was Windigo, a four month old German Shepherd who spent the next ten years as my best friend. The picture gives a nice feel for the flat earth of central Kansas, and its immense sky. I think my grandfather planted the cottonwoods in the background. The evergreens were spreading on their own--arborvitum had been brought in to make thick windbreaks around houses and yards. In the far background, are hedge rows--Osage orange trees planted as windrows along the edge of fields and roads.
Click on the pictures or follow the arrows for a tour of some of the places and events that shaped my novels.
Another fine site developed and maintained by The Thrilling Detective Web Guy
Entire site copyright 2004-16, J.M. Hayes.
J.M. Hayes welcomes your comments and suggestions.
Please feel free to e-mail him.
Header photo courtesy of Dr. Harold N. Ottaway