The Spirit and the Skull (2014)
Bringing murder to America.
Murder is unthinkable to The People -- a Paleolithic tribe crossing Alaska.
For them, among the first undocumented immigrants to enter the Americas, murder isn't merely tragic, it's forbidden. Murder poisons the entire tribe and puts it at odds with nature, the Spirits, and the mighty Earth Mother. A murderer must be removed in order to set the world back in balance.
Raven is the aging Spirit Man to a band where a member has been garroted. Worse, witchcraft is involved -- another appalling violation of The People's beliefs. A woman claiming to be The Earth Mother, and accepted by the tribe, declares only Raven can solve the crimes and restore The People to harmony. But Raven isn't a Spirit Man by vocation. He's an agnostic -- his band needed a Spirit Man and so he became one. Raven has dreams of being a skull being held by a stranger wearing odd clothing.
How will a man who doubts the authenticity of this Goddess satisfy her demands? What if she and the dreams of some future are both real and solving the crimes must lead to Raven's death? An impossible situation becomes more terrible as Raven realizes he's falling in love with a young woman of his band whom he suspects is the guilty party.
WHAT THEY'RE SAYING
"Hayes takes a break from his Mad Dog and Englishman series to bring readers a unique twist on the historical mystery: a Paleolithic detective story. Dealing with themes of primitive religion, social relationships, and even women's rights, this fascinating tale, which adroitly straddles both mystery and fantasy genres, will attract readers from both camps."
Barbara Bibel, Booklist Starred Review
The portrait of tribal life and the lyrical descriptions of an untouched land are worth the read.
Kirkus, June 29, 2014

"A tour de force... A hallmark of a truly fine writer is the ability to draw you into a world you do not want to leave, and J. M. Hayes accomplishes this in spades. I was completely drawn in. When I wasn't reading
The Spirit and the Skull

, I was thinking about it... Original, thought-provoking, and riveting,

The Spirit and the Skull

is much more than a whodunnit by one of my favorite mystery writers. I loved it!"
J. Carson Black, New York Times and USA Today bestselling author of The Survivors Club
"In this entertaining and unusual mystery, J.M. Hayes gives us a fascinating protagonist who solves the crime without DNA testing, fingerprint technology, a gun or even a notebook!
The Spirit and the Skull

hits a home run with an interesting cast of would-be villains and a setting that tweaks the imagination. Prehistory was never more interesting, or sexier!"
Anne Hillerman, author of Spider Woman's Daughter, winner 2014 Spur Award for best first novel
"This thought-provoking standalone from Hayes (
The Grey Pilgrim

)... is... impressive in evoking an alien world when humans lived in tune with their surroundings.
Publisher's Weekly, June 16, 2014
FOR MORE INORMATION
Curious to know what inspired Mike to write

The Spirit and the Skull

? Check out The Story Behind the Story.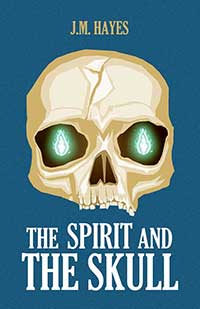 Hardcover (1st Edition)
August 2014, Poisoned Pen Press
Trade Paperback
August 2014, Poisoned Pen Press
Ebook
August 2014, Poisoned Pen Press
Audio
August 2014, Poisoned Pen Press
BUY LINKS