Server Down (2009)
The fifth in the Mad Dog & Englishman series
Attending the Yaqui tribe's Easter Ceremonies in Tucson should be a dream come true for a Cheyenne wannabe shaman like Mad Dog. But immediately after his midnight arrival and a thousand-mile drive from Kansas, things turn nightmarish. Mad Dog is accused of being a witch and, moments later, a policeman is murdered and Mad Dog is blamed. That makes Mad Dog and his wolf-hybrid, Hailey, targets for a city-wide manhunt with shoot-first overtones.
Mad Dog's niece, Heather English, a part-time deputy for her father in Kansas, combs Tucson's mean streets to arrange a peaceful surrender or clear her uncle by finding the real killer.
Meanwhile, someone has blown Mad Dog's house off the face of the Great Plains. Sheriff English, investigates that crime and acts as a long-distance go-between for Arizona law enforcement and his daughter and brother.
At least Mad Dog can tell the sheriff who killed the cop. Mad Dog has been playing a massive online computer game, War of Worldcraft. There, a vampire wizard has made a habit of tormenting him. He recognized the monster as the cop killer at the Yaqui ceremonies. Somehow, he says, the creature has reached out of the game to come after him in the real world. The sheriff isn't convinced. Not until he begins receiving threats from a vampire wizard on his office computer. The ghost in the machine promises death for Mad Dog and explicit and horrible tortures for Heather—half a country away, and all before dawn.
WHAT THEY'RE SAYING
"One of the Five Best Mystery Novels of 2009"
Library Journal, 12/15/2009
Readers of this series (
Broken Heartland

;

Prairie Gothic

) know that when the English family is involved, nothing is what it appears to be and the outcome is never what anyone expects. Full of outrageous humor and a plot that will leave even the most jaded readers demanding more, Hayes's latest gives Janet Evanovich a run for the wackiest characters and most bizarre plots in crime fiction."
Jo Ann Vicarel, Library Journal (Starred Review. 04/01/09)
"Pick up
Server Down

and all the Mad Dog mysteries, sit back and let Mad Dog and Hailey take you for a wild ride. You're in for a rare treat."
MyShelf.Com
"Hayes' books are overloaded with charm. If you haven't read any of them, start with
Mad Dog & Englishman

and keep going. This one will be like an old friend who's come to chat by the time you get to it."
John Orr, San Jose Mercury News
"Hayes writes deftly. His descriptions are visual enough to imagine
Server Down

as a graphic novel. Although he slathers implausibilities throughout, you accept them as part of the ride. He smoothly integrates the action and manipulates suspense through tight cuts. Most entertaining of all, however, is his narrator's sanguinely ironic voice. It's a lot like Mad Dog's; it just doesn't take itself too seriously."
Christine Wald-Hopkins, Tucson Weekly
"If you haven't read the first four of this series, get with the program. It's well worth it."
Mary Ann Smyth, BookLoons Reviews
"The action in
Server Down

never stops. Point-of-view scenes switch from character to character and between Kansas and Arizona. Periodically, Heather manages to reach her sheriff-father on her cell phone and they update each other on what's happening three states away. Sheriff English tries to restore order while his brother Mad Dog, who lives a life of "serendipitous coincidences and dangerous encounters," just tries to survive. But be assured: all will end well. In this highly entertaining series, the good guys generally win and the bad guys get what's coming to them. And those of us just along for the ride have a rollicking good time! HIGHLY RECOMMENDED."
Verna Suit, I Love a Mystery
"J.M. Hayes combines real world crime with cyber-world fantasy to create a complex thriller that teases readers' imaginations while testing their detecting skill. Can monster villains inhabiting the virtual world of an online role-playing game manipulate events and people in the actual world? If so, how does law enforcement find and stop them?"
Jackie Houchin, Mystery Scene Magazine
"Lots of action keeps the story moving at a brisk pace, and the mix of personalities as well as a look at politics in the Arizona city set the stage for an interesting 24-hour period. A fast and enjoyable read, up to the series' standards, and recommended."
Theodore Feit, DorothyL
"Fans of Mad Dog and English will enjoy their latest caper. As always, it is full of just the right mix of action and humor."
Barbara Bibel, Booklist, 03/15/09
"Poisoned Pen Press is probably the elite crime fiction publisher in the nation right now. Their standards are very high and under Barbara Peters gimlet eye and firm editorial hand, they rarely stumble. Having [R]ob always around to beat the drums doesn't hurt, either. In fact, their growing power in the crime fiction community allows them to support authors who are interested in stretching their personal visions as authors.
Server Down

is a good example. J.M Hayes is engaged in writing a series set in the flatlands small mid-Kansas, largely rural, community [of] Benteen County. The series, this one is the fifth episode, is a gentle tongue-in-cheek riff on an old and rude English public house song with the refrain, "Only mad dogs and Englishmen go out in the noon day sun." Principal fellow is a part Indian Kansan who yearns to be a Cheyenne shaman. His adopted moniker is Mad Dog. His brother, the Sheriff of Benteen County is named English. It's a family name. So naturally, people here and there refer to the Sheriff as Englishman. Mad Dog is a militant pacifist who is forever getting involved in causes, peaceful protests. That of course sets him against movers and shakers who'd like to develop the hell out of Benteen County.
Among his other interests, Mad Dog is a gamer. He apparently satisfies his bloodlust with a computer game called War of Worldcraft. Unfortunately, it turns out the massive violent game has more to it than mere pixels on a screen.
Mad Dog is in Tucson to witness classic Indian Easter ceremonies when life goes off the rails. His home back in Kansas is blown away and he's now accused of murdering a local officer. Things spiral out of control until his entire family is at risk and the bodies begin to fall with such rapidity that it becomes difficult to keep track. It's where the author has begun to take risks. Will his audience, used to the slightly off-kilter amusing antics of the Benteen characters, moving in generally placid currents, accept the grittier, more violent and hard-edged tone of this novel? I hope so, because this is a dandy novel. Of course the press is taking a risk as well. Author Hayes is an excellent writer and if the novel gives short shrift to the computer game that is part of the fundamental functionality of the plot, the characters and their trials are far more interesting anyway.
An eminently satisfying story, the characters perform viciously or admirably as are their roles and of course there's Hailey. Everybody's favorite wolf. Excuse me? You haven't met this creature? Too bad. You're missing one of the most interesting, effective, and silent law enforcement figures to come down the pike. Tall dark and handsome, Hailey is something else and [s]he's mostly silent in the bargain."
Carl Brookins, DorothyL, 04/05/09
"Hayes's quirky fifth Mad Dog and Englishman mystery (after 2007's Broken Heartland) alternates between Sheriff English's rural Benteen County, Kans., threatened by an incipient ethanol plant, and half-Cheyenne shaman Mad Dog's madcap tour of the grungier neighborhoods of Tucson, Ariz. At a Yaqui Easter rite, Mad Dog finds himself framed for a policeman's murder, then chased by both the police and a cerebral contract killer. English's plucky daughter, Heather, and Mad Dog's wolf-hybrid companion, Hailey, try to save him from both parties. Meanwhile, the sheriff investigates the bombing of Mad Dog's Kansas home. The crimes, connected by the hypnotic War of Worldcraft computer game, ensure headlong pace and wrenching plot twists, but the book's real strength is the way it depicts computer gaming's destruction of the player's ability to distinguish between reality and fantasy, with such actual consequences as election fixing and police corruption."
Publishers Weekly, 02/09/09
"Hayes has given readers a fast-paced, thrilling book with many subplots."
Carol Hoyer, PhD, for Reader Views (1/09)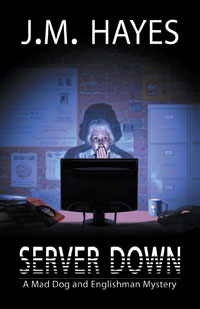 Hardcover (1st edition)
May 2009, Poisoned Pen Press
Cover design by Jeff Budd.
Trade paperback
May 2009, Poisoned Pen Press
Ebook
May 2009, Poisoned Pen Press
Audio
May 2009, Blackstone audio
BUY LINKS
Wondering about that election?
Read about the story behind the story!