A Conversation with Elizabeth Gunn (2008)
"...precision tooled procedurals...meticulous detail."
- The New York Times Book Review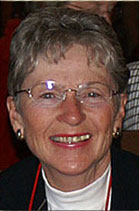 Elizabeth Gunn is the author (so far) of eight novels. Her latest, McCafferty's Nine, the seventh in the acclaimed series starring Rutherford, Minnesota Chief of Detectives Jake Hines was released in late 2007, while early 2008 marked the release of Cool in Tucson, the first in a new series featuring Tucson, Arizona homicide detective Sarah Burke.
Liz grew up in the Minnesota of her first series but has lived in Tucson for the last decade. Her novels have received wide critical acclaim and consistently make my top ten lists. On her way to becoming an author, Liz had careers as an Innkeeper and an adventurer. She earned a private pilot's license, became a sky and scuba diver, hiked deserts and mountains, and traveled extensively in the US, Canada, Mexico, and Europe, including several years as a liveaboard sailor. It was during her shipboard period that she began writing free-lance travel pieces and started her first novel, a police procedural: Triple Play.


Mike: Your new Jake Hines mystery, McCafferty's Nine, is wonderful, as usual, but it feels like it might be the last in the series. Tell us about the book, about Jake, and tell us if Jake and Trudy and the characters we've come to know and love in your fictional Rutherford, Minnesota might be back again?
Elizabeth: I confess I love the characters in that series myself. I've lived with them so long they feel like members of my family, and I know them so well that it's pretty easy to divine how they'll behave when surprises crop up. But the series has changed publishers three times already, and Severn House, where I am now, is a British house and much more interested in Tucson. If I can flush a fresh Minnesota enthusiast out of the publishing bushes, I'd like to have the saga continue.
Mike: Now you've written Cool in Tucson, which appears to start a new series. What prompted Sarah Burke and this dramatic change of scene?
Elizabeth: I've lived in Tucson ten years and come to view it as a rich resource. Proximity to the Mexican border guarantees a thriving drug corridor and booming people-smuggling operations, and an idyllic climate attracts people in hordes from all over while teetering on the brink of ecological calamity. How could a mystery novelist ask for anything more?
Mike: Your new books, McCafferty's Nine and Cool In Tucson, came out only months apart. Is that good or bad, and how did it happen?
Elizabeth: Well, as usual I have no control over it so I choose to view it as an opportunity. I'd been out of print for a couple of years and this quick turn-around gets me caught up. Also, Severn House does something I now know enough to love: they publish a matching trade paperback of my books a few months after the hard-cover, so as soon as library sales ebb there's a very good-value book to place in stores and take to shows.
Mike: You became one of my favorite authors before we met. How that happened and how we've become friends may be of interest to readers and would-be writers. Care to share your version?
Elizabeth: I weaseled my way into your critique group by hook and by crook. I wanted to be working with the local pros who were talented, stretching and growing. It's worked out even better than I hoped, for me. I love the fact that we share honest insights without inflicting pain. I believe we've all improved in the years we've worked together.
Mike: Funny, but the way I remember it, I was the one weaseling my way in. I think I first met you at a Sisters in Crime event, though. And boy was I surprised. You have to know you appear to be the most unlikely person to accurately channel the voices of hard-nosed, hard-speaking criminals. How do you do that?
Elizabeth: I believe humanity's one big tent, and we all have, potentially, almost every possibility inside ourselves. If we're lucky, have loving parents and get a decent education, we usually keep the most destructive urges buried, but that doesn't mean they go away. Dig deep enough and you'll find them. I've been pondering lately about the somewhat alarming fact that I find bad guys a lot more fun to write than good ones. Virtue is extremely hard to make interesting.
Mike: How did you get into this business? And do you have suggestions for would-be writers about how to get started, find an agent, and get a book published?
Elizabeth: I've known all my life that I was supposed to be a writer, so I was always thinking in terms of story lines and character descriptions. I was in business with my husband; when we sold, I sat down and began. (Always the hard part.) Finding an agent and getting published, and then marketing the books, is mostly the kind of demeaning work I wouldn't wish on my worst enemy. I do it because it's the only way I can validate what I write, and you do have to do that. I believe in market testing, the writer's final exam.
Mike: Who are your favorite authors? Who most influenced your own work?
Elizabeth: My first influences were John D. MacDonald, Elmore Leonard and Sue Grafton. I still think Elmore Leonard has the greatest economy of means and the best ear for dialog of anyone working in the genre, but I've also come to greatly admire George Pelecanos, Dennis LeHane and John Lescroart.
Mike: What next? I know you're working on another Sarah Burke. But what else would you like to do? Should we expect any more changes of direction? Might there be something completely different on your horizon?
Elizabeth: Oh, I hope so. I'm hot to sell some short stories, and you know I have the usual great American mainstream novel, safe in a drawer where it's not doing a bit of harm to anyone. I go back to it every so often. One of these mornings, it's gonna rise up singing.
Mike: I know your frustrations with the vicissitudes of the publishing industry and how seemingly incomprehensible marketing decisions have affected your career and moved some of your books out of print. Any thoughts you'd care to share? And how and where can readers find your books, or get a chance to meet and listen to you at presentations and signings to further discuss the "joys" of writing?
Elizabeth: Cool In Tucson seems to be a little hotter than my previous books, so I'm trying to get signings everywhere I can, and will go to book fairs and library events as much as possible. Clues Unlimited will stock it in Tucson, and you can order it through any bookstore and online at Amazon.
Right now, a lot of books are being digitized and published on Amazon's Kindle and a few similar e-books. Some writers see that as the Great Satan, but I see great potential for digitizing in certain applications (I'd have loved it when I lived on a boat). It doesn't warm up a room the way a bookshelf does, and it's no good for what I'm heading out to do right now, swap new-found books with a friend. But the ability to download a book in a minute, at an affordable price, is very appealing to a reader. And for a writer, to stay in print forever? Priceless.
STICKING TO YOUR GUNNS: A BIBLIOGRAPHY
NOVELS
Triple Play (1997, Jake Hines)
Par Four (1998, Jake Hines)
Five Card Stud (2000, Jake Hines)
Six Pound Walleye (2001, Jake Hines)†
Seventh Inning Stretch (2002, Jake Hines)
Crazy Eights (2005, Jake Hines)
McCafferty's Nine (2007, Jake Hines)
Cool in Tucson (2008, Sarah Burke)
New River Blues (Sarah Burke, 2009)
Ten Mile Trials (Jake Hines, 2010)
Kissing Arizona (Sarah Burke, 2010)
Magic Line (Sarah Burke, 2012)
Eleven Little Piggies (Jake Hines, 2013)
Red Man Down (Sarah Burke, 2014)

OTHER APPEARANCES
How Still We See Thee Lie (2002)
A collection of novellas from Elizabeth, Allana Martin, Tom Mitcheltree, and Connie Shelton.


To keep up with Elizabeth Gunn, if you can, visit her at her web site.