Prairie Gothic (2003)
The second in the Mad Dog & Englishman series
Benteen County, Kansas, a hellhole in summer under scorching heat and winds, turns even meaner in winter. As a howling blizzard blows down on the sparsely populated county seat of Buffalo Springs, Sheriff English confronts both a doll and a dead baby--switched, but by whom? And why?
The coroner disclaims any knowledge, but seems faintly uneasy, especially when the swastika on the tiny corpse is revealed.
The sheriff's part Cheyenne half-brother, Harvey Edward Maddox, known as Mad Dog, collects a naked dead body from the Sunshine Towers retirement home and heads towards a treetop burial until he is diverted by the storm. In a makeshift mound nearby, Mad Dog's pet wolf-hybrid finds a child's skull--and evidence of adult bones. Mad Dog also discovers a fading ID for a living County Supervisor.
Can the Hornbaker clan really be as gothic as it seems? And what of the tiny woman in the red shoes back at the Towers who calls herself Dorothy...
WHAT THEY'RE SAYING
A "Best Books You've Never Heard Of" Selection
New York Magazine, June 4, 2007
"It's no easy trick to write about America with a clear eye for its faults and with warm humor. Mark Twain managed it, and so does J.M. Hayes, with admirable wit in the face of horror."
John Orr, New York Magazine
"The author likes to toss into his creative blender a grocery cart full of diverse cultural elements--crime contemporary and historic, American Indian religion and medicine, the survival instincts necessary to live off of some very inhospitable real estate--and come up with something truly unusual."
Dick Adler, Chicago Tribune
"Blizzards and inbreeding and murder, oh my... the novel's twists bag the reader from the start and don't let go until the final page."
Jen Foote, Crescent Blues Book Reviews
"McMurtry on skates, this hilarious mystery takes place in a Kansas snowstorm so dense that nobody seems to be able to keep their feet on the ground, their cars on their road, or their wits about them... Among the funniest mysteries I have read."
Mark Bernstein, The Drood Review of Mystery
"Juggling the several story lines with aplomb, Hayes shows that even quirky characters can have a sober, thoughtful side when dealing with dilemmas of confidentiality and choice. This macabre, witty look at life and death on the Great Plains should win Hayes new fans."
Publisher's Weekly
"This is one of those books you won't want to begin reading too late at night, you might not get any sleep till you finish it."
Bob Spear, Heartland Reviews
"
Prairie Gothic

... by J.M. Hayes is as gothic as Faulkner, as amusing as Twain and it takes on religious extremism with stunning inventiveness and admirable wit in the midst of horror.
It is a dizzying novel, with montage cuts like a movie -- Robert Altman meets John Woo with a scary chunk of Roman Polanski thrown in -- but manages to work in wise and often amusing perceptions about the ways of American Indians, Plains states Christianity and the ways even Kansas is changing in the modern world."
"Who knows (or cares) what the literary academics might say, but it's just possible that

Prairie Gothic

by J.M. Hayes could be considered Capital L Literature in much the same way that, say, Huckleberry Finn is respected... one of the best mysteries of 2003."
John Orr, San Jose Mercury News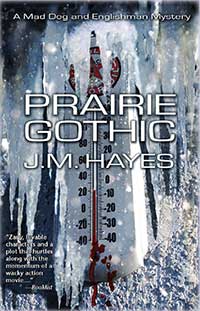 Ebook
May 2011, Poisoned Pen Press
Trade Paperback
October 2006, Poisoned Pen Press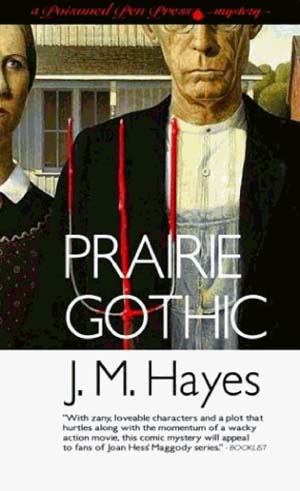 Mass-Market Paperback
Hardcover (First edition)
January 2003, Poisoned Pen Press
BUY LINKS