Plains Crazy (2004)
The third in the Mad Dog & Englishman series
Spring bursts into bloom -- and a whole lot more -- as a murder-by-arrow rattles Benteen County, Kansas.
Nothing much ever happens in Benteen County. Then, on a perfect spring morning, a member of the reality TV program filming in a local pasture dies with a Cheyenne arrow in his back. Sheriff English's brother, Mad Dog, the county oddball whose Amerind heritage has produced a born-again Cheyenne, is a prime suspect. Murder is a bad way to start the day. Bombings aren't an improvement. Notes left for authorities hint at a terrorist assault on the heartland.
If the sheriff, known as Englishman, doesn't have enough to worry about, his wife has begun acting strangely. She insists he fly off on a Paris holiday with her before sunset--or else. As Mad Dog swings between suspect and target, he encounters his long-lost high school sweetheart, and a secret that just may explain the unlikely mix of arrows and bombs.
It's Murphy's Law squared, as Mad Dog and his pet wolf, Hailey, test a shaman's powers and Englishman struggles to balance his duties to family and community--enough to drive anyone Plains Crazy.
WHAT THEY'RE SAYING
"Reader's may need to make a chart to keep track of the characters and plot lines, but they will be laughing so hard they probably won't take the time to consult it anyway. This is the best madcap cozy to hit the genre since Joan Hess' Maggody series debuted more than 15 years ago."
Barbara Bibel, Booklist (Starred review)
"
Plains Crazy

is another wonderful mystery... The pace will pull you through screaming with laughter and terror... We rated this delightful read five hearts."
Bob Spear, Heartland Reviews
"Hayes has outdone himself with a wild cast of characters and situations, yet he also manages to reach deep into the hearts of his characters, making this novel the best in the series."
Nancy Mehl, The Wichita Eagle
"
Plains Crazy

is a wild, wild tale with corrupt county commissioners added to the mix of homicides and bombings... Hayes has somehow managed to bring all of this together so the reader, who is willing to suspend considerable disbelief, will find the story of one day in the life of Benteen County, Kansas, an exciting tour de force."
John A. Broussard, I Love a Mystery
"It's really an impressive bit of work, the way Hayes crams so much into one day in a sparsely populated (fictional) corner of Kansas where usually nothing more exciting happens than raindrops keeping the dust down. And it is a very good look at what we decide is important in our lives... do yourself a favor and go find any of the books in this series. You'll enjoy them."
John Orr, Mercury News
"As dug into the Kansas prairie as big bluestem grass,
Plains Crazy

gives us unforgettable characters and a story that deepens and widens like a slow-mo bomb that explodes for 300 pages. Fantastic!"
Mary Logue, author of Bone Harvest
"I read
Plains Crazy

and I loved it. The pacing was tremendous; I think I read it in two sittings. It's rare for a series to get better and better with each book--and I thought the first one was pretty damn good."
Pete Hautman, winner, 2004 National Book Award for Young People's Literature, for Godless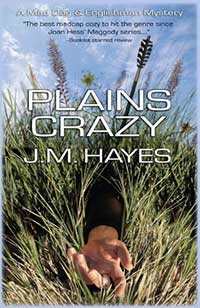 Ebook
May 2011, Poisoned Pen Press
Trade Paperback
May 2011, Poisoned Pen Press
Audio
January 2013, Poisoned Pen Press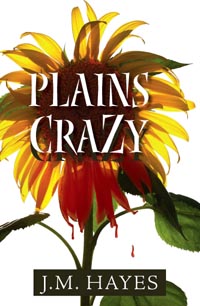 Trade Paperback Edition
October 2006, Poisoned Pen Press
Paperback (Large print edition)
November 2004, Poisoned Pen Press
Hardcover (1st edition)
October 2004, Poisoned Pen Press
BUY LINKS