Mad Dog and Englishman (2000)
The first in the Mad Dog & Englishman series
Summer in Benteen County, Kansas, is a season possessed of all the gentle subtlety of an act of war. Winter, of course, is no better, but the memory of frosts and blizzards and winds that begin to suck away your life before you walk a dozen steps had grown faint by the early hours of that Sunday morning in late June.
While some try to sleep, and some like Sheriff English and his ex-wife try sex, the Reverend Peter Simms takes an early walk through the park and encounters someone counting coup. When the Sheriff's part-Cheyenne brother, Mad Dog, begins a vision quest in the same park, he finds the Reverend's mutilated corpse.
Mad Dog is the obvious suspect and begins to hang out in the town jail while Sheriff English widens his net and picks up not only several suspicious characters, but an increasingly dark history for the Simms family. The case grows stormier, as does the weather. A tornado throws its fury at the hapless town, and the fury of the killer rises to meet it, as well as brothers Mad Dog and Englishman, atop the city's grain elevator.
WHAT THEY'RE SAYING
"When I get sent a novel to blurb, I never know what to expect. It's such a wonderful surprise to get a fine one. This novel has a well-told tale, great characters, and a wonderfully done setting... It's a suspenseful tale, told from the title to the end with wit and warmth by a very talented writer."
Nancy Pickard
"The author's powerful voice belies his relatively small body of work. Hayes writes with assurance, sprinkling his story with an abundance of black humor and a strong bucolic nonchalance over individual sexual proclivities... There ought to be... a word of mouth campaign in support of this fine book... J.M. Hayes is an author people need to read."
Reed Andrus, Charlotte Austin Review
"To all outward appearances, Benteen County, Kansas is a flat, monodimensional place. However, writer J.M. Hayes brings this fictional county to life with a gripping murder mystery showcasing the author's ability to weave an intricate tale of vibrant characters and exceptional descriptions."
Steve Ciccarelli, My Shelf.Com
"J.M. Hayes' fans who pick up his new mystery,
Mad Dog & Englishman

, expecting the elegant focus of his first novel,

The Grey Pilgrim

, should prepare to reset their f-stops. . . . One thing Hayes' fans can count on, though the plot covers a lot of territory, is that the story lines are clear and the prose is sharp and skillfully crafted."
J.C. Martin, Arizona Daily Star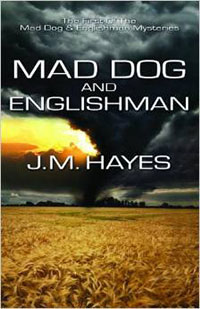 Trade Paperback
October 2001, Poisoned Pen Press
Ebook
February 2013, Poisoned Pen Press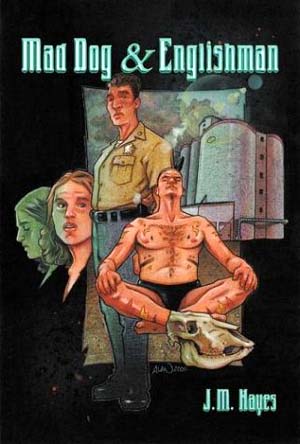 Hardcover (1st edition)
November 2000, Poisoned Pen Press
BUY LINKS