The Grey Pilgrim (1990)
Mike's first novel, a historical standalone
History and imagination blend to create an unusual thriller based on the last American Indian uprising in Arizona--a 1940 struggle for civil rights.
Deputy U.S. Marshall and Spanish Civil War veteran J.D. Fitzpatrick arrives in Tucson, a shell-shock case. His job should have been a sinecure, but the insensitive local BIA agent provokes a gunfight and riles the Papago. Fitzpatrick is sent to the reservation to arrest the ringleader, Jujul, and his band of renegades, but they have disappeared into the desert.
Why should they accept a call for military service from a country that refuses to grant them the rights of citizens?
A Japanese Kempeitai agent arrives in Arizona to fuel the revolt, and buy additional preparation time for Japan's Pacific campaign.
If J.D.'s life isn't complicated enough, he finds himself drawn to the married young anthropologist Mary Spencer.
The strains of pragmatism versus honor and integrity deeply affect all the characters, and lead to a startling and explosive finale on the Mexican coast of the Gulf of California. There, J.D. must confront the renegade Papago, the Japanese agent, his untenable relationship with Mary Spencer, and the ghosts of his terrifying past in Spain.
WHAT THEY'RE SAYING
"Wow! Here's one you shouldn't miss. J.M. Hayes is my kind of writer.
The Grey Pilgrim

is a clever plot, peopled with great characters."
Tony Hillerman
"Well written first novel . . . Filled with bits of Indian lore, peopled with memorable characters, and written with a deft humorous touch . . ."
Publisher's Weekly
"Based in part on a true story, the clever plot and well-developed characters add up to a satisfying adventure. On another level, some interesting questions are raised on the nature of courage and honor . . . Hayes provides lots of action but does not fall into the trap of giving easy answers. A story well worth reading."
Barbara E. Kemp, Library Journal
"If you want to read a wonderful book about the Tonono O'odham, pick up a copy of J.M. Hayes'
The Grey Pilgrim

... a gripping look at the Native American conscientious objector during World War II, and the great lengths to which the government went to deal with him."
Tom Danehey, Tucson Weekly
COOL STUFF
The Grey Pilgrim

was a North Carolina State University, General H. Hugh Shelton Leadership Center recommended selection for "additional reading in the category of integrity."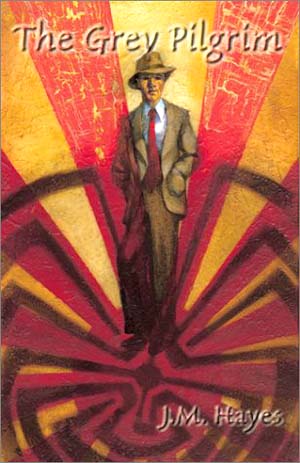 Trade Paperback
November 1, 2000, Poisoned Pen
Revised and expanded.
Ebook
May 2011, Poisoned Pen
Revised and expanded.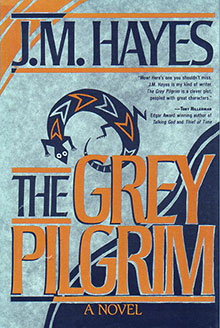 Hardcover (1st Edition)
June 1990, Walker & Company
BUY LINKS