Broken Heartland (2007)
The fourth in the Mad Dog & Englishman series
Sleepy Benteen County, Kansas turns frantic on election day.
Sheriff English, better known as Englishman, faces his toughest re-election challenge yet. The radical religious right is out to unseat him, their candidate an Iraq war hero. And Englishman's only available deputy isn't winning him votes, not after ramming a school bus carrying a local teen choir during a pre-dawn chase.The occupants of the vehicle being pursed seem involved with involuntary organ donors and secret surgeries. Englishman's brother, Mad Dog, a born-again Cheyenne, rushes back from a quest to the Black Hills. Instead of a vision, he had a premonition that the sheriff is in serious danger. Finding his farm vandalized and a cruel political billboard in his front yard, Mad Dog complicates the sheriff's life by investigating the hate crime himself. The sheriff's daughters, attending separate colleges, wake with similar premonitions, then cut classes and hurry home to keep their father safe. The sheriff sees them as the ones in need of protection as his day grows progressively wilder. A student smuggles a gun into the school and begins shooting and taking hostages. Then there's the private army that's seized a nearby farm and holds citizens against their will. And, when he finds some spare time, Englishman needs to clear up one little thing about his deputy's accident. Benteen County doesn't have a teen choir.
It's enough to make a sheriff wonder why he wants to serve another term.
WHAT THEY'RE SAYING
"Nothing but problems for Sheriff English and his hotwired brother... What Hayes (
Prairie Gothic

, 2003, etc.) lacks in finesse he makes up in winning audacity."
Kirkus Reviews
"Drama in a Small Town" (5 stars)
Stephanie Rollins, Reader Views
"Something's rotten in the American heartland, and few books explore and explain that putrescence with more humor, perspicacity and sincerity than the Mad Dog and Englishman series by novelist J.M. Hayes... His little murder mysteries - each taking place in just one day in the fictional county of Benteen County, Kan. - are amusing and darkly Gothic... And they have plenty to say. As Hayes puts it in his afterword, 'there's nothing the matter with Kansas that isn't duplicated in our nation at large.'"
John Orr, The San Jose Mercury News
"Hayes' stories of small-town Kansas, each of which takes place in a single day, are complicated, convoluted, high-speed and a lot of fun."
Michelle Shealy, MyShelf.com Reviews
"Hayes does a marvelous job in keeping these various plotlines from spinning out of control. The pace of the book is about as rapid as the stories are frantic and it is thrilling to be a part of it, if only as a reader. The real mystery here is how the author, in the end, brings everything together so well...
Broken Heartland

is action, more action, and a bit of a mystery with just a suggestion of a love story. It is highly recommended."
Hidden Staircase Mystery Books
"This new venture starts off running and never stops until the last page. So much is going on that it seems like it would be hard to keep it all straight. Yet Hayes applies deft touches to keep the storyline intact and as exciting as all get out."
Mary Ann Smith, Bookloons
"One hectic day in the life of Benteen County, Kansas....Needless to say, it's exciting and well worth reading, and is recommended."
Theodore Feit, Crimespree Magazine and Midwest Book Review's Reviewer's Bookwatch
"
Broken Heartland

grabs the reader on page one and becomes impossible to put down. Its rollicking, non-stop excitement, with crisis after crisis, make it one of the most original and funniest books I've read in a long time. Amid the mayhem are truly hilarious scenes and deftly drawn quirky characters.... At the same time, author J. M. Hayes addresses serious issues, including the dangers of religious fanaticism, the ethics of medical transplants, and the difficulty of being different in a small town in the heartland.
"HIGHLY RECOMMENDED."
Verna Suit, I Love a Mystery
"Once again, Hayes crams his mystery with zany characters, nonstop action, and multilevel plotlines..."
Jo Ann Vicarel, Library Journal
"Readers will find sleepy Benteen County, Kansas, wide awake and action packed in Hayes' new addition to this quirky series. The mixture of action, humor, and politics will keep readers interested as they wonder just how much can be squeezed into 24 hours."
Barbara Bibel, Booklist
"When you mix a Mad Dog with an Englishman you can expect a zany . . . tale that will elate those fans who appreciate the offbeat in their police procedurals."
Harriet Klausner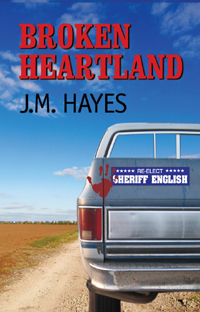 Hardcover (1st edition)
November 2007, Poisoned Pen Press
Trade Paperback
November 2007, Poisoned Pen Press
Ebook
November 2007, Poisoned Pen Press
Audio
November 2007, Poisoned Pen Press
Hardcover (Large Type edition)
November 2007, Poisoned Pen Press
BUY LINKS